Laura Kemp
About Laura:
My name is Laura Kemp and I'm an Educator who has always loved to write. I have a degree in creative writing from Western Michigan University where I studied under Stuart Dybek, and yes… he is as cool as he seems. Even more so.
Since graduation I've gotten married and now have four kids, six cats, one dog, three hamsters, four horses and innumerable chickens. I live on a small farm in southern Michigan but dream of the day when my husband and I can buy land up north and vanish into the woods.
When I'm not writing I love to hike with my Goldendoodle, swim, read, perform with my Celtic Band Si Bhaeg Si Mohr and act in musical theatre. I love to connect with my readers so drop me a line and let me know what you're thinking!
Featured Books by Laura Kemp
A Home for the Stars
"I was falling, the cold numbing my bones in a way that made me feel like I'd been caught in a storm blowing in from the Big Lake. I reached out, expecting to touch the soft sheets on the bed I shared with Dylan and felt something scratch my fingertips."
A mysterious Ojibwa petroglyph has carried Justine Cook back in time to the moment her unseen enemy is born. But something is wrong… Separated from those she loves, she finds herself in a strange world surrounded by people she has only known in dreams, and stalked by a man who now haunts her reality. And time is running out. Knowing that even the slightest misstep could change the future, Justine must call on the strength hidden within her to save the lives of those she has left behind as she uncovers A Home for the Stars.
What people are saying about A Home for the Stars
Action and suspense combine with magic and compassion to create and exciting and satisfying ending fora twisting tale. Thank you for the adventure and the tears, Mrs. Kemp.
Nola Nash ~ Award Winning Author of the Crescent City Series
A stunning conclusion to a brilliant trilogy. Laura Kemp's skill shines on every page of "A Home for the Stars" as she deftly navigates complex characters through emotional quandaries, supernatural folklore, and edge of your seat action. Take a breath and hope the story continues.
Rob Samborn ~ Author of Prisoner of Paradise
GET THE BOOK: Paperback | Digital | Hardcover
---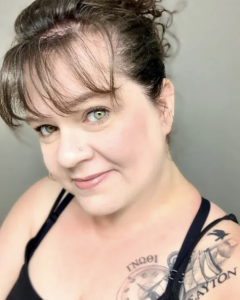 Nola Nash
About Nola:
Born and raised in south Louisiana, Nola Nash now resides in Brentwood, Tennessee. Along the way, Nola has been a broadcaster, and advertising executive and a classroom teacher. Her current day job is as an online high school Instructional Coach, working to help strengthen teaching skills and improve the student classroom experience..
Her Crescent City series is a paranormal historical mystery set in the 1830s French Quarter and includes Crescent City Moon and Crescent City Sin with at least one more book to follow. Her newest series debuted with Traveler in March, 2022. When she is not writing or working with teachers, she hosts Writer's Showcase and Dead Folks' Tales podcasts with Authors on the Air Global Radio Network.
Featured Books by Nola Nash
Traveler
If history is trying to tell you something, you better pay attention before it's too late.
Shelby Starling is a train-wreck with a dream job—traveling the world writing promo material for Pioneer Tours, all the while hiding cracks in her armor behind a solid wall of snark and Chianti. But there's more to Shelby Starling than she wants to admit. History has a bone to pick with her, and isn't afraid to pull Shelby into the memories of her past lives to make its point.
Thanks to a universal misfire and the ineptitude of the gods, she must find her way back to the time she was destined for so she can stop living life after life watching great things happen instead of making great things happen. That is, of course, if she can get her shit together.
Will finding her destiny mean sacrificing love?
What people are saying about Traveler
In "Traveler" I discovered such a unique, fascinating concept, it instantly made this book stand out among others I've recently read. Its vivid descriptions, its one-in-a-million premise, its exquisite mixture of history, adventure and the paranormal will elevate your reading experience to an entirely new level! Along with Shelby I traveled the world, I searched for myself – both physically and metaphorically – I was transported into a mesmerizing world of the past and watched its most significant events unravel through Shelby's eyes. Without giving too much away, I'll just say this: read this book – I promise, it'll be one of the brightest, most unforgettable experiences for you as a reader. Utterly fascinating and impossible to put down! 
Ellie Midwood, author of Metropolis and Auschwitz Syndrome
Spectacular destinations, time travel, and Gods, OH MY. Beautifully described destinations will make you feel like you are there.  Romance, trippy time travel, and destiny's cruel humor highlight Nash's Traveler.
Timothy Gene Sojka, author of #1 Thriller Payback Jack and Politikill
A very entertaining read that carried me right to the end. My Life in Ruins meets The Mummy.
Ed Leahy, author of Past Grief
GET THE BOOK: Paperback | Digital | Audio Book
---
Dänna Dennis Wilberg
About Dänna:
Dänna Wilberg, a multi-award-winning, short-film maker, writes, produces and hosts two TV programs in her hometown region of Sacramento, California. PARANORMAL CONNECTION and STORY CONNECTION focus on intuitiveness, the "story" behind the story, artists and ordinary people doing extraordinary things.
Dänna's passion for writing began in fifth grade, but she began writing diligently after a car accident left her in a disparaging state. Battling health issues and faced with the challenge of relearning basic skills due to cognitive impairment, Wilberg set out to prove that despite her physical limitations she could still "do stuff". She began her TV show to improve her speaking skills and began to write short stories as a way to ward off depression and fill painful, sleepless nights.
Along with her passion for writing and film making, Wilberg is a philanthropist, and volunteers for her favorite PBS station, KVIE. Wilberg is an active member of EDWG, SIC and NCPA. She loves traveling, art, music, sings karaoke, and has an uncanny talent for winning radio contests. She attributes her success to a loving family, earth angels, and a deep belief that we are ALL "Producers" of our own lives.
Featured Books by Dänna Wilberg
Borrowed Time: Book 1 – Broken Promises
Imagine being shot, thrown into a pool, and left for dead. But by some miracle you survive−only to be tormented by visions of young women being murdered…
When Suzanne Cash's dead fiancé, Jack, appears during her near-death experience, she credits him for saving her life. But when he keeps reappearing, hijacking her sanity, and insisting she revisit her past, she questions his motives. Why would he lead her into the lair of a serial killer?
And what is his connection to the victims? Detective Sam Metzger wants answers, even if it means suspending his disbelief about things unknown.As the body count rises, Suzanne's visions become more frequent and Goldorado's Sheriff's Department is on the hook.
Sam knows the clock is ticking, and although Jack is determined to help Suzanne understand her nefarious visions, lifting the veil to the other side is out of his control.
After all, in the Universal Law of Cause and Effect, destiny must prevail.
What people are saying about Borrowed Time: Book 1 – Broken Promises
Dänna Wilberg's first series The Red Chair, The Grey Door and The Black Dress were great. Borrowed Time has exceeded all my expectations. This book is everything a good murdercmystery should be. It was so suspenseful, that I found myself clenching my stomach muscles in anticipation for what was coming next. I could not put it down. This is definitely a page turner. Danna brilliantly leads the reader along on a roller coaster ride that is so gripping the reader finds themselves completely absorbed in the storytelling. Bravo Danna for another fantastic book. I highly recommend this book to anyone wanting to read a spine tingling thriller.
Renee Cornish – Verified Purchase – Amazon
I didn't want this book to end! I was mesmerized by the characters, the plot, the "pull" of the story, the intensity drawing you to keep reading. The author paints so many vivid pictures in my head; not unlike Pat Conroy in "Beach Music" where his descriptions leave no doubt of his intent. Her descriptions are colorful, poignant & precise; at times, profound. For those skeptical of the paranormal, the author allows you to believe in the main character's prescient vision since Suzanne herself is skeptical & fearful of her own gift. We learn, as she does in her experiences what her purpose is in this life. The story is filled with amusing & relatable parallels. When discussing their lives, Suzanne compares Steven to living a life of "When Harry Met Sally" while she's "stuck with 'Silence of the Lambs'". The characters are full-bodied, without question we can believe their plight & experience their horrors. We feel the urgency building up. We understand the need for Suzanne to be the vessel & the key to resolving the crimes.I so look forward to my next "trip" with Suzanne Cash.
Brian Gregory – Verified Purchase – Amazon
GET THE BOOK: Paperback | Digital | Hardcover | Audio Book
Borrowed Time: Book 2 – Missing
Dreams, visions, a prescience that goes beyond intuition—what do they mean?
When Suzanne Cash develops psychic abilities after her near-death experience, she is haunted by images of a young woman in jeopardy. Although she strives to make sense of the disjointed and disturbing snippets, she finds no correlation until Detective Sam Metzger's sister goes missing in Vienna, Austria, and the visions hit far too close to home.
Lewis Howard, a retired British meat-packer by trade, dies on the operating table during open-heart surgery. As he slips into the Hereafter, a deceased friend tells him that he must return to his body…and find a missing girl.
Little does Lewis know that across the pond, Suzanne Cash is receiving the same information, or that their efforts will converge into a psychic collaboration, unheard of in any crime investigation.
Detective Sam Metzger is out of his wits when he discovers his sister Audra is not merely missing—an international, billion-dollar sex trafficking ring has abducted her.
Who can Sam trust? And who is on the take? Relying on visions from an entourage of psychics, and good old-fashion detective work, Sam is determined to find and bring his sister home. Can Suzanne translate her visions into information that will help the man she loves? Will Sam be in time to save Audra?
Or…Has the whole world gone mad with its own demons?
What people are saying about Borrowed Time: Book 2 – Missing
Dänna has done it again! I thought book one was a gripper. Well book 2 is even more so. I could not put it down and read it in two days. What a great writer and I loved the way she left each chapter wanting more. I look forward to book 3!
Helen Smith – Verified Purchase – Amazon
The Mistress of the Paranormal Hits Another Home Run. When Detective Sam Metzger's daughter Audra turns up missing in Vienna and a British citizen's near death experience haunts Suzanne Cash, Dänna Wilberg's second book in the Borrowed Time series takes us into the dark world of human trafficking, where Audra's life hangs in the balance and Sam must find her before it's too late. Dänna Wilberg is the mistress of the paranormal, and fans of Book 1 will find "Missing" a powerful second act in Suzanne's adventures, with a satisfying resolution that leaves readers eager for more.
Terry Shepherd – Author of the Jessica Ramirez Thrillers
GET THE BOOK: Paperback | Digital | Hardcover
Borrowed Time: Book 3 – Mind Games
When psychic Suzanne Cash witnesses the aftermath of a young woman who takes her life in Paris, she is horrified. But when similar tragedies happen repeatedly, Suzanne's sixth sense kicks into high alert. Are Gen-X suicides on the rise? Or is there something more sinister going on?
A mass shooting in Sacramento strikes close to home, and the facts just don't add up. The anonymous gunman commits suicide, one of the witnesses dies in a fiery car crash, and a little girl and her family go missing…
Suzanne and her psychic friends join forces to figure out how the bizarre incidents are connected, and what they have to do with 5G
Detective Sam Metzger battles changes in his own thoughts, his department's behavior, and an overall psychosis affecting the community. The relevance begs the question: Are people out of their minds?
Or…is a puppet master calling the shots?
GET THE BOOK: Paperback | Digital | Hardcover | Audio Book
---
Terry Shepherd
About Terry:
Terry Shepherd wrote his first short story at age eleven and was first published as a non-fiction author in 2008. He created Detective Jessica Ramirez in 2019, publishing his thriller Chasing Vega in 2020. The book earned 5-Star ratings on Amazon and is also available in audio book and Spanish language editions. The second installment in the trilogy, Chasing The Captain was released in the fall of 2021 with Chasing Karma, Jessica's third adventure due out this summer.  When his grandchildren asked to star in their own stories, he created the Waterford Detective stories for his grandson and published the popular Juliette and  the Mystery Bug series, co-authored with his wife, Colleen, when his granddaughter wondered how kids could protect themselves during a pandemic. His most recent book is Students In Time, a science fiction time travel adventure that parallels the 4th grade public school history curriculum.
Terry is also a prolific book narrator and audio-artist, voicing 7 novels, along with dozens of commercials and promotional trailers.  He hosts the popular Authors on the Air podcast, has been a moderator and panelist at Bouchercon, co-chaired Capitol Crimes Chapter's 2021 Anthology project and currently serves on the board.  He was an early social media adopter, authoring Social Media and Your Personal Brand in 2012 and the forthcoming Social Media and Your Professional Brand, slated for release in May.
He has written over 400 motivational essays since 2004, the best of which were aggregated into three popular self-help books.
Terry and Colleen live on the ocean in Jacksonville, Florida and are co-founders of "Down Syndrome Nation" a web resource for friends and families of persons with Down syndrome. Terry is a graduate of Michigan State University, has studied at both Harvard and Oxford and toured South America as a rock drummer in the summer of 1972.
Featured Books by Terry Shepherd
Chasing Vega
When a meth bust goes bad, Detective Jessica Ramirez and her partner, Officer Alexandra Clark, find themselves in pursuit of a serial killer who dispatches her own form of street justice from the rim of the Grand Canyon. They soon discover that the danger their adversary poses reaches well beyond Arizona and into the very heart of the New York City Financial District. Filled with 21st century crimes and non-stop action, Terry Shepherd's first detective thriller features a diverse ensemble cast of strong smart women and the men who try to keep up with them. Jess and her partner, Officer Alexandra Clark, grab you from page one, and don't let you go until the last plot twist is finally revealed.Chasing Vega is a heart pounding roller coaster ride that will make you want to return to Jess and Allie's world again and again.
What people are saying about Chasing Vega
Jessica Ramirez is a kickass cop with a strong moral compass and the grit to prove she belongs with the big boys. I can't wait to see what she does next.
Danielle Girard, USA Today and Amazon Bestselling Author
An exciting debut thriller to kick off a series sure to please, anchored by the fierce Jessica Ramirez and her intriguing partner, Ali. Looking forward to more from this author.
Pamela Fagan-Hutchins, Bestselling Author of the Patrick Flint Novels.
GET THE BOOK: Paperback | Digital | Hardcover | Audio Book
Chasing The Captain
In Jessica Ramirez's second outing, she's once again a fish out of water, chasing the bad guy who got away. When forced to witness a questionable execution, Jess follows a tiny thread across the Atlantic, linking up with DI Liyanna Evans, a cop with London's Metropolitan Police. The two quickly discover that their antagonist's reach is both worldwide and deadly.
Another delectable tale that blends technothriller with suspense and police procedural adventure, Chasing the Captain picks up where Chasing Vega left off, giving Jess the chance to find the answers she seeks, even if it endangers her life and career in the process.
Many of your favorites from Chasing Vega are back, including the indomitable Alexandra Clark, technology guru Andy Milluzzi and Jessica's FBI boyfriend Michael Wright. Add Terry Shepherd's diverse ensemble cast and enough twists and turns to make your head spin and you have another wholly satisfying, screen-worthy popcorn thriller that best-selling author Tori Eldridge calls, "a fast-paced international adventure."
D.P. Lyle, author of the Jake Longly and Cain/Harper Thriller series calls Chasing the Captain, "A break-neck ride crammed with tension, action and kick-ass characters."
McKenna Mystery author Kate Anslinger says, "Terry Shepherd is one of those rare authors who can bookend a masterful action scene with poetic prose, descriptive settings, and human emotion, leading readers to fall effortlessly into the diverse worlds he creates."
As you dive into Chasing the Captain, you'll become immersed in the adventure, too.
GET THE BOOK: Paperback | Digital | Hardcover | Audio Book
Chasing Karma
Jessica Ramirez must die. The three men behind the villains in CHASING VEGA and CHASING THE CAPTAIN send the world's most deadly assassin to dispatch Jess for foiling their plans. When the killer turns up dead, events escalate and Jess faces the greatest challenge of her life, without her identity and with no memory of who she is.
Terry Shepherd ratchets up the tension with his stunning plot twists, high tech weaponry and the cast of characters readers have grown to love in The Jessica Ramirez Thrillers. Chasing Karma rockets forward at Terry's usual breakneck pace and we don't know how things end until the last sentence discloses the story's final satisfying reveal.
Jess and Ali are back, along with love interests Michael Wright and MET Detective Inspector Layanna Evans. FBI Director Terry Taylor returns, as do MI6 operatives Mo Gerhardt and Tom Anastos and Andy Milluzzi's band of tech whizzes. We celebrate the return of fan favorite Joey Price, MD, plus a cadre of new players and a delectable antagonist who is a deadly match for Jessica's tenacity, skill, and commitment.
Chasing Karma takes the Jessica Ramirez canon to a new and terrifying level, a powerful stand-alone thriller, and a rewarding new entry in a series with much more to come.
"Terry Shepherd's Jessica Ramirez is back with a vengeance! Chasing Karma is an adrenaline-fueled ride with breakneck twists you won't see coming. Jason Bourne and Jack Reacher have nothing on Jessica Ramirez". —James L'Etoile, author of Dead Drop, Black Label and the Detective Penley series